Once I found out how to check which hairstyle suits my face online, I knew I'd never blindly choose an unflattering new cut or style again. Why take a risk with your hair when you're not absolutely sure you'll love it?
Learn how to play around with different hairstyles and cuts that suit your face shape and features using our virtual hairstyle try-on tool – the best of its kind and the only tool you'll need.
How to Check Which Hairstyle Suits Your Face Online
Switching up your hairstyle takes guts. Making changes – big or small – to your hair can be scary when you're not sure how it's going to look on you.
In the past, every new hairstyle, color, or cut came with this risk (unless you happened to consult a fortune teller on the way to the salon). But today, technology makes it possible to virtually try on new looks.
A range of hairstyle try-on tools and apps are out there, but most of them are dated. They fall short of our expectations and fail to give us an accurate picture of how a new hairstyle or cut will look with our specific face shape and facial features.
Spoiler Alert: We Built a Hairstyle Try-On App
We could see that something big was missing from the virtual hairstyle try-on apps and tools currently out there. So we set out to fill those gaps and build a free try-on tool that has all the options and features that we felt were missing from other tools.
We wanted more hairstyle options – thousands more – and more realistic try-on sessions. We wanted additional hair colors (from natural to bold and vibrant), more short, medium, long, and in-between length options, and realistic results that don't look like a bad Photoshop experiment.
You want to be able to try on virtually any new style or cut to see how it looks on you without so much as snipping a single strand. Don't we all? So that's exactly the kind of hairstyle try-on tool we built.
If you've ever ended up with a hairstyle, cut, or color that you loved in theory but absolutely hated on you IRL, you know what I'm talking about. Sometimes the pretty styles we like in photos look great on the model, but just don't look right on us.
Maybe the cut doesn't suit your face shape, the color is all wrong for your skin tone, or it's just all-around unflattering on you. Most of the time, we're going into a new haircut or style completely blind and just hoping it all works out.
No wonder we're ending up disappointed in new looks more often than we'd care to admit!
You don't know how your new look is really going to turn out until it's too late – unless you use our hairstyle try-on tool, that is! Instead of choosing a new haircut or style based on how it looks on someone else, why not choose your next look based on how it looks on you?
Our Free Hairstyle Try-On Tool Shows You Which Styles Suit You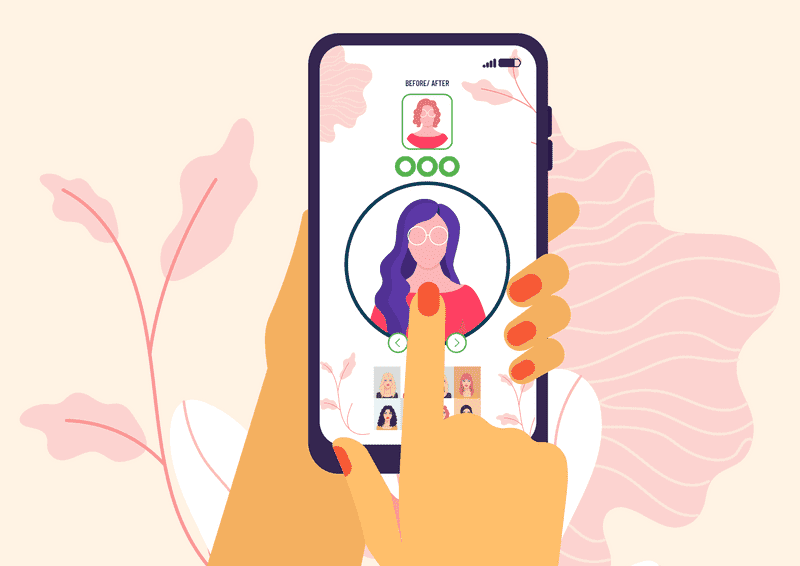 We designed our tool to make it easy for you to check which hairstyle suits your face online without downloading any new apps, wasting time on tools that don't feature the types of hairstyles you're interesting in trying out, or dealing with grainy, dated hairstyle images that don't accurately show you how you'll look with a new color, length, or style.
We wanted to build a one-and-done free tool that enables you to try an unlimited variety of hairstyles, colors, and cuts – so that's exactly what we did. You'll find that it's the only hairstyle try-on tool you need because it does it all.
Try on new haircuts in different lengths (short, medium, and long cuts)

Experiment with new hairstyles for every occasion

View yourself with different hair colors (natural to vibrant hues)

Try on bangs, layers, different parts, and hair textures

See how simple hairstyle tweaks can make a style better suit you

Learn which styles are wrong for your face shape

Discover styles and cuts that flatter your best features
All you have to do is upload your photo to see how you'd look in any hairstyle or cut that piques your interest. Plan out your future haircuts and styles based on how good they look on you – not how good they look on other women online.
Look, inspiration photos are great and we always recommend bringing a few to your stylist for reference. But nothing is going to determine how you'd look with a new haircut or style better than seeing it for yourself with our built-in hairstyle try-on tool.
That's because it shows how a given haircut, style, or color will flatter and flaunt your best features – or how it might draw focus to your features in an unflattering way.
Wondering how you'd look as a blonde with an asymmetrical bob? You can find out in seconds, even if you're currently a brunette with long hair. Think full bangs would suit you, but need to see them on you to know for sure? Try them on virtually without the risk.
And if you've been growing your hair out for years but think it might be time for a drastic change, you can see how you'd look with short hair before you get a big chop you'll end up regretting.
With our hairstyle try-on tool, there's zero reason to ever go blindly into a new hairstyle again. It'll become your go-to way to virtually experiment with limitless hairstyles so you only get the cuts, colors, and styles that you already know will look bangin' on you.
Why Most Virtual Hairstyle Try-On Tools Suck
When I found myself wondering how to check which hairstyle suits my face online, I used a lot of different search terms. I was looking for any and all of the following:
Virtual hair try on
Hairstyle app
Hair simulator
Hair makeover
Virtual hair color try on
Try on virtual hair color
Hair style app
Try hairstyles online
Tons of results came up and I'm not ashamed to say I tried them all. It was a quest to find an ultra-flattering new look for me. I was sure at least one of the tools would give me what I was looking for, but what I ended up discovering was that most of the tools out there, well, suck.
Some weren't all that bad – they just featured older hairstyles that weren't exactly on-trend or anything I'd be interested in rocking. Some were better for trying on different makeup looks than hairstyles, colors, and cuts.
And some were downright terrible, showing me grainy "hairstyle" options that looked like the developers created in Microsoft Paint. Sadly, none of them really did what I wanted them to do – show me how I'd look with a different hairstyle, color, or cut.
Were they fun to experiment with? Sometimes, but all the existing apps and tools I tried were clunky, hard to figure out, and seriously lacking in the hairstyle department.
It was obvious that these developers and websites didn't really care how realistic or accurate their tool was. So while it was fun to mess around with, it didn't help me visualize how a new color or cut would actually look on me.
When I searched for apps to check which hairstyle suits my face online, I just wanted to know what I can actually expect my new 'do to look like, and I'm sure you do, too.
Our Free Virtual Hairstyle Try-On Tool
How to Use the Tool
We've spent a lot of time making our free tool to let you try on hairstyles. We hope you like it! Using it is as simple as following these steps:
Center the oval around your head. You can adjust the hair's placement later.
Once centered, click the "person" icon on the left-hand side to take your photo. Or, click the "up" arrow on the right to upload your own photo.
Select short, medium, or long hairstyles using the "All Lengths" dropdown below the picture area. Scroll through hairstyles using the arrows on the right and left.
To adjust the positioning of the hair, click the icon that looks like a cross. Adjust the positioning, then click the icon again to confirm.
To adjust the width or height of the hair, click the icon that looks like a square. Adjust the positioning, then click the icon again to confirm.
To rotate the hair, click the icon that looks like two arrows made into a circle. Rotate the hair, then click the icon again to confirm.
To rotate the hair, click the icon that looks like two arrows made into a circle. Rotate the hair, then click the icon again to confirm.
To download your hairstyle, click the "down" arrow icon.
Once you have a style, download or screenshot it and show it to your stylist. You're one step closer to completely revamping your look. And trust us — you'll slay it.
Troubleshooting Issues
Having trouble with the tool on an iPhone? Try this (it accounts for 90% of the errors).
Go to the "Settings" section of your phone
Select "Safari"
Scroll down and select "Camera"
Click "Ask"
Your iPhone will now ask websites (aka ours) to use your phone. When prompted, click "Allow" and you'll see your camera
Why Use Our Virtual Hairstyle Try-On Tool?
Sure, you can use it to see how you'd look with a specific new haircut, color, or style. But users are already discovering fun bonus ways to use our virtual hairstyle try-on tool! Here's a quick look at the different ways you can use it:
Instantly Try On New Hairstyles
You're going to love being able to preview the hairstyles you want to try with our tool. Who among us hasn't wondered how we'd look with a radically different style than what we wear day-to-day?
Maybe you tend to opt for sleek, straight styles but are thinking about shaking things up with a messy-wavy style or something a little more voluminous.
Maybe you're stuck in a style rut and just need to see yourself with a few unexpected style options to get inspired to make a change. Maybe you're planning your wedding, birthday party, or a special event that calls for a new hairstyle and you want to see a few different looks before you make your decision.
Whatever the case, it's always fun to try on something new, hairstyles included.
Drag and drop a new hairstyle onto your favorite selfie and see how you look with a new 'do. From simple styles that are perfect for daily wear to bold and intricate styles for more formal occasions, we've got you, girl.
Experiment With New Hair Colors
New hair color, who dis? Our try-on tool makes it easier than ever to try out a new hair color, minus the part where you end up in tears because it really doesn't suit your skin tone but it's too late to turn back.
Experimenting with hair color in real life can be scary. Seriously. Even semi- and demi-permanent colors can stain your hair and end up a little more long-term than you planned for.
So before you experiment with a new color on your actual head, it's a good idea to use our tool to try a few shades on virtually to ensure you're going to love the one you land on.
Have you ever seen yourself as a beautiful blonde

How about as a sexy redhead or sultry brunette?
You may discover that the hair color you're nervous about trying is actually the ideal color for you. But you won't know until you try! Being able to try on any hair color virtually makes your new hue risk-free and helps expand your hair color possibilities.
Since you can try on any color and shade, you're sure to come across colors you might not have considered, but end up as your new signature shade.
See How You Look With Different Haircuts
A flattering new haircut or length change will play up your best features while minimizing your least favorites. But the reverse can also be true – some haircuts that don't suit your face shape will dull your best features while putting those you'd rather hide front and center.
Use our virtual hairstyle try-on tool to see how you'll look with a huge variety of haircuts and lengths before you get the chop in real life.
Experiment with all lengths – you'll see tons of options for short, medium, and long cuts – and check out how you look with different types of haircuts, like trendy pixies and bobs, midi layered cuts, long blunt cuts, and wolf cuts.
If you've always been curious about how you'd look with an ultra-short haircut or if you grew your hair out to longer lengths, our tool is going to help you visualize it realistically so you'll be confident in the choice you make.
You can see how you look with any haircut your heart desires and take advantage of our massive database packed with thousands of different haircuts and styles. You're sure to find a few looks you'll love!
Play Around With Hairstyle Features
When you use our tool, you get to play around with hairstyle features that can dramatically change up your look without requiring a major length or haircut change.
Experiment with different types of bangs, layers, and parts (middle, left, right, off-center, etc.) that can update your look when you're not ready for a big change. Think back to the last time you got bangs or layers that you ended up hating (you know – the kind that seem to take about 5,000 years to grow out).
Now imagine you had been able to virtually try them on before your stylist (or you) did the actual snipping. You would've been able to see right away that the look didn't suit you. And you could've skipped over the entire regretful experience!
Now that you know better, you can use our try-on tool to see how you look with a variety of hairstyle features that can make or break your new look. Check out how you look with:
Full blunt bangs
Soft side-swept bangs
Trendy curtain and bottleneck bangs
Long, wispy layers
Short, choppy layers
Center, side, or off-center parts
We've added thousands of options to our tool, so you'll find there's no limit to the types of hairstyles and features you can try. It's the best way to play around with new looks to find what you like best!
Preview New Hair Textures
They say the grass is always greener on the other side, but if you've ever gotten a perm you ended up regretting, you know that isn't always true.
You can use our trusty try-on tool to preview new hair textures before you sink an hour into heat-styling, drop big bucks on a straightening treatment, or commit to curls long-term with a new perm.
Browse our database to find different hair textures in the length you want to try on. You'll find endless straight, wavy, curly, coily, and kinky hair texture options to experiment with. This gives you the ability to see how you'd look with sleek, wavy, or curly hair before you commit to the look.
This is really helpful whether you're thinking about trying out a new heat-styled texture for a formal hairstyle – like curls for prom or on your wedding day – or a more permanent, long-term option like a Japanese straightening treatment or perm.
Instantly see how you look with a new hair texture without dedicating the time to try it out in real life when you use our try-on tool.
Search for Styles That Suit Your Face Shape
Maybe you're completely open to a new look, but don't really know what will look good on your specific face shape. Everyone has a basic face shape – oval, round, square, or heart are the most common – and certain types of styles and cuts will better suit you than others.
Our virtual try-on tool makes it simple to see which haircut you should get to flatter your face shape. It shows you a range of styles that can highlight your best features while downplaying your least favorite areas to truly look your best.
For example, did you know that women with round faces should opt for cuts that highlight and frame their cheekbones? This little "hack" instantly lengthens the face to make it look more oval than round.
And ladies with a heart face shape should steer toward cuts that downplay forehead width while adding visual weight to the bottom half of the face where the chin and jaw naturally narrows.
With our tool, you can easily browse thousands of flattering cuts and styles for your specific face shape. This means you'll end up finding lots of options that help you look your best, all before you've even stepped foot in the salon.
Getting the Best Results
We designed our virtual try-on tool to be as simple and straight-forward as possible. Just upload a clear photo of your face (or use one of our built-in photos) and choose a color, style, or cut that you like to see how it looks.
You can ensure you get the best and most realistic results by using these tips when you use our tool! These tips can help you get the most accurate results from our try-on tool so you'll have a better idea of how a given hairstyle or color is actually going to look on you.
Take a Good Photo First
We're all guilty of opening our camera roll and choosing the most recent full-face pic we've got for tools and apps like this, but that's only cheating you out of good results.
Instead, take a few minutes to capture a good photo before using a hairstyle try-on app. A good photo has these characteristics:
Bright, natural lighting
Shows your entire face looking straight-on
Neutral, relaxed face without a smile or expression
Hair slicked or pulled back
You need to ensure you're taking the photo in natural, bright (but not blinding) light. The photo should be of your full face.
Be sure your photo doesn't cut off any part of your head – you'll want to be able to see how the new hairstyle looks on your entire head. For photos like these, a smile isn't important and can actually skew your face shape a bit.
You'll also need to slick your hair straight back or gather it into a low ponytail to keep it out of your face. This ensures you'll be able to accurately see how different styles look without strands of your hair hanging down to ruin the effect.
So relax your face without smiling and try to capture that neutral face for the best results. Take it a step further and plug in that ring light for an angelic glow that will look amazing next to your hairstyle!
Learn Which Hairstyles Suit Your Face
You can make the most of our tool and get the best results when you know which types of cuts and styles are going to be the most flattering on you.
If you have a square face shape, for example, you can really save time by automatically skipping over cuts and styles that accentuate an angular jawline – like sleek, low-volume styles or blunt-cut bobs that hit at the chin.
When you have this kind of working knowledge about your own face shape, you'll be able to swipe through and choose styles that you know will suit you. Even better, you'll be able to cruise right on past those that don't.
I really go into detail about choosing a hairstyle that suits your face shape properly in this guide: What Haircut Should I Get? Styles for All Face Shapes.
Compile a Few Color Options in Advance
Lighting differences in your uploaded photo can really change the way different hair colors will look on you in the tool.
To ensure you get an accurate representation and look at color options that'll flatter you in real life, you can do a little research before using our tool to find colors that suit your skin tone and undertones best.
Start by determining your general skin tone – the shade and depth of your skin, like light, medium, or dark – along with your undertones, or the underlying colors that make your skin tone warm, cool, or neutral.
Once you know what your skin tone and undertones are, you'll be able to pick out colors that are sure to work for you and skip the ones that don't. For example, women with warm undertones need to choose warm colors and shades, like caramel or honey blondes, warm chocolate browns, and golden coppers.
Women with cool undertones look better in cool-toned shades, like ash blondes, ash or mushroom browns, and burgundy reds. Neutral undertones can choose any color family!
Go a Little Crazy
Finally, you can really make the most of our try-on tool by giving yourself permission to get a little crazy with your choices and selections. You never know which fun, bold, or edgy looks will look amazing on you until you try!
With our virtual try-on tool, you can try a range of different looks without making any actual changes to your hair. It's a risk-free way to compare different looks, so the real question is why not get crazy with your choices? Maybe platinum blonde is THE color for you.
Maybe an edgy pixie cut is exactly the change you need to switch things up. Maybe you're perfectly suited for rich, black color, choppy layers, or a full blunt bang. You won't know until you try, and we've made it easy to instantly try on just about any look you can imagine with our tool.
What's the Best Way to Virtually Try On Hairstyles?
Learning how to check which hairstyle suits my face online ended up sparking the idea for us to create a virtual hairstyle try-on tool.
After trying dozens of the other try-on apps and tools online, we found that clunky design, poor hairstyle selection, and limited color and cut options made them more of a joke than a helpful tool for finding flattering hairstyles to try.
So we came up with our own virtual hairstyle try-on tool to fix these issues. We added thousands of trendy and classic styles and cuts to give you plenty of options, no matter what your aesthetic is.
We included every color option under the sun so you can accurately see how you'll look in any shade, tone, or hue you're considering. And we've packed it with different hairstyle options – like bangs, layers, and different parts – to make it easy to envision yourself in any style.
Frequently Asked Questions
Now that you know you can use our try-on tool to experiment with different hairstyles, lengths, and colors, we wanted to address some of the most frequently asked questions we get from users on the subject. You might find the answer you've been looking for right here!
How do I choose a hairstyle that suits me?
Choosing a hairstyle that suits your face shape is crucial to being satisfied with your latest chop. The best way to choose which style will fit you is to draw inspiration from ideas online on people who have similar coloring and face shapes as you.
Start with our haircut guide (linked above) to find the most flattering options for your specific face shape and features.
Then, use our tool to find similar styles that are sure to suit you. You can save your results and bring them to your hairstylist to ensure you get the exact cut, color, and style you want!
Are there any apps that recommend a hairstyle for your face shape?
Yes, there are hairstyle try-on apps for Apple and Android products but we've run into a few serious issues with each one. Hairstyle try-on apps are often clunky, poorly designed, and feature outdated haircuts and styles that are better left in the 80's.
These apps can be difficult to use, require personal information or billing information to download, or lock the best hairstyles and colors behind a paywall. Plus, who wants to download an app they'll only use once or twice every few months?
It's better to use a built-in tool like the one here on our website. You'll get to see how you'd actually look with modern-day, trendy cuts and colors instead of viewing a poorly Photoshopped version.
How to choose the right haircut according to your face shape?
Every face shape has unique features and measurements that make it better suited for some haircuts and styles than others. Once you know the little "rules" to follow for your specific face shape, it's easy to choose cuts that flatter your face shape.
There are plenty of YouTube videos and blog posts online that explain the differences between each face shape and which haircuts look best on them. Do a little research through these avenues to determine the best choice for your face shape.
How can I try different hairstyles on a photo?
If you have a good photo of yourself (good lighting, full face, hair pulled back, neutral expression), it's easy to try different hairstyles out using your picture when you visit our virtual hairstyle try-on tool.
Go to our try-on tool and upload your photo, making sure you're looking directly at the camera and including your whole face in the shot. Then, play around with the hairstyles to see how you look in a variety of haircuts, colors, and styles to find viable options to try IRL!
If a hairstyle looks good on me with your tool, will it look good in real life?
We designed our hairstyle try-on tool to give you the most realistic and accurate results. The goal was creating a tool that you can rely on to find styles, colors, and cuts that will be flattering for you in real life, not just on the tool.
As long as you upload a good photo of your full face in bright, natural lighting and ensure your hair is pulled back, you're going to get an accurate look at how a given hairstyle will suit you in reality.
Save your results to show your stylist so they can closely mimic the style you've chosen in our try-on tool!
No schema found.