Dealing with tons of damage after bleaching your hair? Using one of these 7 products for damaged bleached hair can save your strands and start restoring your hair's health, softness, and shine.
Whether you're struggling with heart-breaking breakage, gummy mushy strands, straw-like knotted hair, or super-dry, frizzy tresses post-bleaching, there is hope!
Check out the best products for damaged bleached hair – from instant fixes that make your hair soft and shiny again to intensive treatments that slowly rebuild bonds and repair the damage from bleach.
Best Products for Damaged Bleached Hair – Myths or Miracles?
Some people say that once your hair has been damaged by bleach, no product in the world will physically repair those broken bonds and restore its strength, shine, and softness. Those people, it appears, have never heard of the 7 products on our list.
In the wide world of haircare, there are 7 products that stand out as the absolute best for damaged bleached hair – and tons of imitations that are basically overpriced snake oil.
We took to online haircare communities to find out which damage-repairing, hair-saving products actually work and get recommended the most in cases of bleached hair emergencies.
The products we found are hailed as "holy grail" products and real-life miracles by women who were on the brink of chopping it all off due to over-bleaching.
One or more of these 7 products may be exactly what you need to save your over-processed strands. We found that there are indeed a lot of "damage-repairing" products for bleached hair that fall squarely under the Myth category.
Maybe these weaker products can work for minimally-damaged strands that only need a little boost, but we were on the hunt for the truly miraculous products that are strong and effective enough to make a big difference in mushy, straw-like, or weak bleached strands.
The products we found are the best of the best when it comes to saving and restoring the health of bleached hair. We'll share those products in just a bit, but first, let's talk about what makes them so effective.
What's In the Best Products for Damaged Bleached Hair?
Taking a look at the hard-hitting ingredients in the most effective products for hair damaged by bleach will help you understand why some are better than others. Your hair needs hydrolyzed protein, bond builders, and moisture to begin repairing that damage.
Hydrolyzed Protein
Your hair is made up of mostly protein – specifically a protein called keratin. When you bleach or otherwise chemically process your hair, it causes protein loss that weakens your strands and leads to breakage or weak, stretchy texture.
Adding protein back into your hair is one way to address the damage done by bleaching, but it's not as simple as using a homemade mask of eggs and yogurt.
You need special hydrolyzed protein, which is chemically broken down into molecules small enough to physically penetrate and repair your hair strands. Some of the best products for damaged bleached hair use hydrolyzed protein as an active ingredient.
Think of it as spackle filling out the holes left behind in your hair by processing with bleach. Hydrolyzed protein will smooth, strengthen, and repair damaged strands after just one use.
Bond Builders
Bond builders are another key ingredient you'll find in some of the best products for damaged bleached hair. Bond builders have one job: To relink the broken disulfide bonds in damaged hair after bleaching or processing.
Not all bond builders are created equally, and that's important to know upfront. We've listed the options that work best below, but there are tons of imitations out there that just don't have the same effects.
True bond builders will seek out the broken disulfide and hydrogen bonds in your damaged hair and link them back together to improve the way your hair looks and feels instantly.
Well-known products like Olaplex and Brazilian Bond Builder (b3) are examples of bond-building products for damaged hair.
Moisture
You can't fully repair and restore damaged hair back to health without moisture! Moisture and protein go hand in hand, making your strands strong, shiny, and soft again to minimize that damaged look and feel.
Dry, brittle strands that easily break off and take on a straw-like, stiff feel can really benefit from extra moisture. After bleaching your hair, infusing tons of hydration and moisture deep into your strands will help soften and plump up your strands for a soft and shiny feel.
It's worth noting that moisture should be a component of good hair care post-bleaching, but it's not enough on its own to repair damaged hair.
Deep conditioning after damaging your hair may improve the way your hair feels, but it's only temporarily coating your strands – not repairing broken bonds or injecting protein deep into the damaged strands.
Still, it's an important piece of the puzzle and you can't go wrong adding some extra moisture and hydration to your hair when it's damaged!
7 Undisputed Best Products for Damaged Bleached Hair
Hydrolyzed protein, bond builders, and moisture – these products are bringing out the big guns and have all the essential ingredients needed to start repairing your damaged hair.
We hung out in online haircare communities on Reddit to discover which products get recommended the most often and which ones women swear by to fix damaged hair post-bleaching.
We love crowdsourcing info because these women aren't paid to support or promote specific products – they're genuinely sharing the ones that have worked for them and given the best results.
Without further ado, these are the 7 holy grail products you need to try. Learn about each one and how it works below!
1. Olaplex Hair Perfector No. 3
Olaplex #3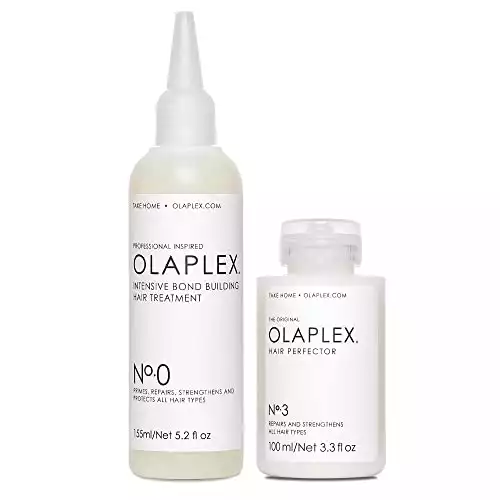 Olaplex is the undisputed best product for damaged bleached hair. They literally patented the original bond-building formula to repair damaged hair.
Every frantic post requesting help for gummy, straw-like, or super-dry hair after bleaching was filled with enthusiastic recommendations of Olaplex products – specifically Olaplex Hair Perfector No. 3. The "magic" ingredient in Olaplex No. 3 is Bis-Aminopropyl Diglycol Dimaleate.
It's patented, so no other product will work exactly like Olaplex. This ingredient relinks broken bonds in damaged hair to make it feel smooth, shiny, and healthy again after a particularly damaging bleach sesh.
Buy it here for $30. It's not cheap, but it's a lot better than chopping off all the damage and starting over from a pixie cut you weren't planning on. Here's what people had to say about Olaplex Hair Perfector No. 3.
"Try Olaplex no 3. I had black box dyed hair and bleached it 3 times within 3 weeks and it was so damaged it was falling out. It transformed my hair after just using it once. It's expensive but so worth it." -HaircareScience User Aloevera-no
"Olaplex No.3, castor oil, or coconut oil hair masks 2-3 times a week. Olaplex works the best but is the most expensive." -HaircareScience User Aalliecat
"Start with Olaplex! Be generous in using it, you can't "overuse" it. It's inexpensive when you compare the results to salon treatments at $28 a bottle – which should last you close to a month with heavy use. Also get a good conditioner. I use Joico Moisture Recovery Treatment Balm. I have fine bleached blonde frizzy wavy hair." -HaircareScience User Inp5539
You Might Also Like:
2. Aphogee Two-Step Protein Treatment
Aphogee Protein Treatment
Weak, brittle, or gummy/mushy strands are a sign that your recent bleach session seriously damaged your hair. A good dose of strengthening protein should fix it, but you'll get the best results when you use a 2-step treatment over a few weeks like Aphogee Two-Step Protein Treatment.
Aphogee's 2-step system is a serious product made for severely damaged hair. It works by encapsulating your hair in a hard protein shell to deeply penetrate each strand and fill in those missing proteins lost during the bleaching process.
It's good for stopping breakage in its tracks and making hair feel stronger and smoother. Hydrolyzed animal protein (it's definitely not vegan) and magnesium are the magic ingredients here.
You apply the treatment all-over, gently comb through to evenly distribute, and leave your hair perfectly still and untouched (that's important) before drying your hair with a blow dryer. Rinse and reveal your healthier strands!
You can buy it here for about $29. People absolutely rave about this product and how powerful it is for repairing super-damaged hair. You can use it every 3-6 weeks, depending on how much protein loss you've had. Here's what people are saying about Aphogee's 2-step system.
"Aphogee two step protein treatment saved my hair and I didn't have to cut it off. It like, unnaturally holds it together for about 3 weeks. I got the bottles and did it whenever it would start tangling." HaircareScience User WhiskeyJane45
"I went from red curly hair to platinum blonde then back to red, I used Aphogee protein treatment, Olaplex and deep conditioner. After 6 months I am finally getting curls back and looking healthy." HaircareScience User TipsyPenguin2011
"Aphogee Two Step Protein Treatment for 10 minutes, remember NOT to disturb hair in ANY way during this process (do your research on how to do this, probably the trickiest part)." -HaircareScience User P_light
3. K-18 Leave-In Molecular Repair Hair Mask
K-18 Hair Mask
This is a favorite product for those in the know and it can repair – even reverse – damage from bleaching in just 4 minutes. That's a tall order, but it's packed with effective and patented ingredients that give it an edge.
Damage-repairing proteins and peptides are the secret sauce here. This hair mask contains the patented K18Peptide™ formula that infuses strengthening protein peptides deep into the cortex of damaged strands.
Hydrolyzed wheat protein helps fill in the gaps from protein loss during bleaching for smooth, soft hair. Buy it here for $29 and see how it totally transforms your damaged hair into a healthy, soft mane.
This is one of the top-recommended products for bleach-damaged hair and is always at the top of the list to reverse the effects of over-processing.
"Look into K-18. It's more permanently reparative than Olaplex. It seems more expensive, but since it repairs the hair more fully, it's less expensive in the long run. Plus, you don't need to use much per application." -HaircareScience User HonestlyRespectful
"K-18 with no conditioner or masks has actually helped bring softness, shine, and manageability back to my hair! I'm on the 5th treatment of the first 6 you have to do and I'm able to run my fingers through my hair easily and there is actual softness there and the shine is back, not just at my roots but through my lengths!" Sephora User Cantreadamap
"They do have a smaller size of the K-18, and literally you will probably only need a small [amount] at a time to see if it works for you. Follow the directions on usage of it, it also has details inside the box of approximately how much you should use according to your hair length and density, it is concentrated." -HaircareScience User Me_oh_my
4. Kerastase Resistance Serum Therapiste
Kerastase Serum
Kérastase Resistance Serum Therapiste is one of the top-recommended products to repair damaged hair after bleaching. This 2-part dual serum dispenses out of a pump that blends the oil and cream parts that are made to instantly improve the look and feel of damaged hair.
It's formulated with hydrolyzed wheat proteins and a blend of amino acids (protein building blocks) to physically restore and strengthen damaged strands. It also contains oils and moisturizing creams that hydrate and plump strands to feel soft and shiny.
Buy it here for $35. You only need a small amount – 1 pump for short hair or 2 pumps for long hair. Here's what people say about Kerastase Resistance serum for damaged hair.
"If your hair is damaged I would recommend the [Kerastase] Resistance line. The shampoo, mask, and serum, along with Olaplex 3, have really saved my hair from falling off after bleaching from a level 1/2 to level 5/6." -HaircareScience User Techybee3
"Resistance shampoo & conditioner – Amazing for bleached, damaged hair & split ends. I felt like this actually repaired my hair! I would highly recommend all the products from this line for brittle/damaged hair, especially the blowdry primer, also called Ciment Thermique. It's amazing." -Sephora User Jupitermercury
"I have some products for special occasions and I can say that Kérastase gives me the best hair I ever had. The Masquintense for thick hair and the Résistance lines are amazing…I tried Moroccanoil, K Pak, Absolut Repair, Orofluido and many others, but anything Kérastase is on a higher level." -HaircareScience User Pushinglilliesx
5. Redken Extreme Bleach Recovery Lamellar Treatment
Redken Bleach Recovery
Instantly nourish bleach-ravaged hair with Redken's rinse-out lamellar treatment. This ultra-moisturizing treatment warms up on contact with your hair and infuses deep, repairing hydration into your strands.
The main ingredient here is cica, also known as Indian pennywort or Gotu kola. It's proven to increase blood flow so your hair gets quick restoration with moisture, vitamins, and minerals directed right to your scalp and strands.
This treatment rinses out, leaving your hair supple, soft, and shiny afterwards. Buy it here for $27 and get one step closer to healthy, repaired strands.
We saw this product recommended again and again on popular haircare forums online and many compared the results of using this entire product line (shampoo, conditioner, rinse-out, leave-in) with Olaplex!
"I recently bought the Redken Bleach Recovery (shampoo, lemallar water, and the after leave-in) line and it has done wonders to my bleached hair, way better than Olaplex in my opinion. It feels like it's never been bleached!" -HaircareScience User Xxseraph
"Redken's bleach recovery line is great. Their anti-snap line can also be helpful. Watch out for over-proteinization which will also make the hair feel dry, almost "hard" and crunchy-feeling when the hair is wet, & straw-like where it's difficult to get a comb or brush through without snagging." -HaircareScience User ViciousValk
"I love Olaplex but after my hair was ruined with bleach recently I found Redken Extreme Bleach Recovery. They have a whole system to revive bleached/blonde hair. I was floored when I saw how soft my hair was afterwards. And it has more natural wave and bounce now. Highly recommend." -HaircareScience User Kittykatwhit
6. Joico K-Pak Reconstructor Deep-Penetrating Treatment
Fortify, strengthen, and rebuild damaged hair in 5 minutes with the Joico K-Pak Reconstructor treatment. This powerful product will make damaged hair look healthy and shiny after just one use, and it's not just due to deeply moisturizing conditioners.
This treatment contains hydrolyzed keratin – the same protein that makes up your strands – to fill any gaps from protein loss during bleaching. It also packs amino acids and nourishing oils into the mix to imbue damaged strands in a restorative matrix of strength-building moisture.
You apply it to damp hair for 5+ minutes and rinse it out. You won't believe how soft and strong your hair feels after using it once – keep using it as often as you want to get even better results.
Buy it here for $38.50 – pricey, but absolutely worth it for the instant results. People consider this a true holy grail product for repairing damage and find that the entire line of K-Pak products is worth the cost.
"Joico has a K-Pak Reconstructive line that I'm quite fond of. My favorite product for damaged hair is, by far, the Joico K-Pak Deep-Penetrating Reconstructor. It's like a super-conditioner." -FancyFollicles User MollyConnollyxx
"Make sure you give your hair protein 1x per week as well as moisture. Joico K-Pak or the Sally's Great Value Products equivalent have been known to help with what's left. (It will dry your hair out though, so be sure to deep condition after if you choose to buy it.) -FancyFollicles User Katilea
"Joico K-Pak saved my hair after I went from a year+ of black dye to near platinum." FancyFollicles User Rlw0312
7. Brazilian Bond Build B3 Instant Restore & Protect Reconstructor
Brazilian Bond B3
Rebuilding broken disulfide and hydrogen bonds in bleach-damaged hair is essential to repair your hair and get it looking healthy and shiny. Brazilian Bond Build (B3) Instant Restore and Protect Reconstructor is one of the best and will instantly get your mane back on track.
Hydrolyzed wheat protein acts as a rebuilder to fill in the gaps from protein lost during the bleaching process. Moisturizing and hydrating castor oil and seed oils nourish damaged strands to leave your hair feeling supple and healthy after a treatment.
You apply it from root to tip and let it sit for 5-10 minutes before rinsing out to reveal the miracle it's worked.
Buy it here for $36 to rebuild your damaged hair bonds. People swear by this product after severely damaging their hair with bleach and say it works after just one use.
"I really like the Brazilian bond builder b3 system. My hair got pretty fried from last bleaching and I used the b3 shampoo conditioner and leave-in exclusively for a month and it helped." -HaircareScience User Lasadgirl
"Olaplex, number 3, specifically, and it's life-saving, but it is hella pricey. A similar, yet slightly more economical brand I've found that seems to repair the integrity of the hair equally well is Brazilian Bond Builder (B3). Personal preference, but you'll need one or the other." -HaircareScience User Severedheads
"My hair feels really soft after one use of B3 so I'm actually happy now because at first I was skeptical. I have very curly hair since I'm black but that one treatment really helped me." Sephora User Jazzmenkb
More Tips to Repair Damaged Bleached Hair
Using the best products for damaged bleached hair is key and you won't get far without them. But it's also important to take steps to switch up your haircare routine to give your strands a little extra TLC if you want to get back to healthy, soft, shiny hair!
Stop brushing, start combing.

A wide-toothed comb is a must for really damaged hair as it creates less drag and friction on strands while you detangle. Use it with a light hand and don't force your way through tangles to avoid causing more breakage.

Cut off some of the damage.

It's not essential, but cutting off at least some of the damage is a good idea. Not only will you remove some of the knotty, mushy, or brittle portion, you'll also be able to use less of the pricey products you'll need to

repair the rest of the damage

.

Keep it moisturized.

The protein treatments and products you'll be using to repair the damage from bleaching can be drying, and damage from over-processing can leave your hair very porous (

high porosity

) and dry. Infuse lots of deep moisture with as many moisturizing

hair masks

and

conditioning products

as you can. Use a shower cap to trap your body's heat to make these products more effective.

Sleep on silk or satin.

Whether it's a satin/silk pillowcase or a bonnet to enclose and protect your hair, you need to avoid scratchy cotton pillowcases while you sleep. Cotton creates friction that can lead to more breakage and tangles, so switch to silk or satin to avoid damaging your hair further after bleaching.

Start oiling your hair.

Hair slugging or oiling is one of those

TikTok hair trends

that actually works – and it's great for damaged hair. At night, coat your hair in a

good hair oil

like coconut, jojoba, argan, olive, or grapeseed oil to seal in moisture and make it softer and shinier.

Avoid processing again for a while.

It may be tempting to dye your hair or

bleach your hair again

if your bleach session didn't give you the results you wanted. Don't do it! You'll need to wait at least 2 weeks before processing your hair again in any way – dye or bleach – but it's smart to wait a lot longer. Try to hold off for a few months to give your hair time to fully recover from the damage while you're using some of the best products for damaged bleached hair in this guide.
Start Rebuilding Strands With the Best Products for Damaged Bleached Hair
There you have it – the 7 absolute best products for damaged bleached hair, period. From strand-smoothing protein treatments to bond builders that knit damaged strands back together from the inside out, be encouraged: There is hope for severely bleach-damaged hair!
Yes, these miracle products are kind of expensive. Yes, you'll need to keep using them to get the best results. But they're the undisputed champs when it comes to "fixing" bleach-damaged strands and we think you'll find the cost is more than worth it.
After all, how much is your hair's health and length worth to you? Most of the products on this list are around $30-$40, which is a much more palatable price to pay than getting a big chop when you weren't planning on it.
But hey – if you've been itching to see how you'd look with a short haircut like a pixie or short bob, now could be the ideal time to try it! Otherwise, grab one or a few of the products on this list and breathe a sigh of relief when you see your much-healthier, soft, and shiny results.